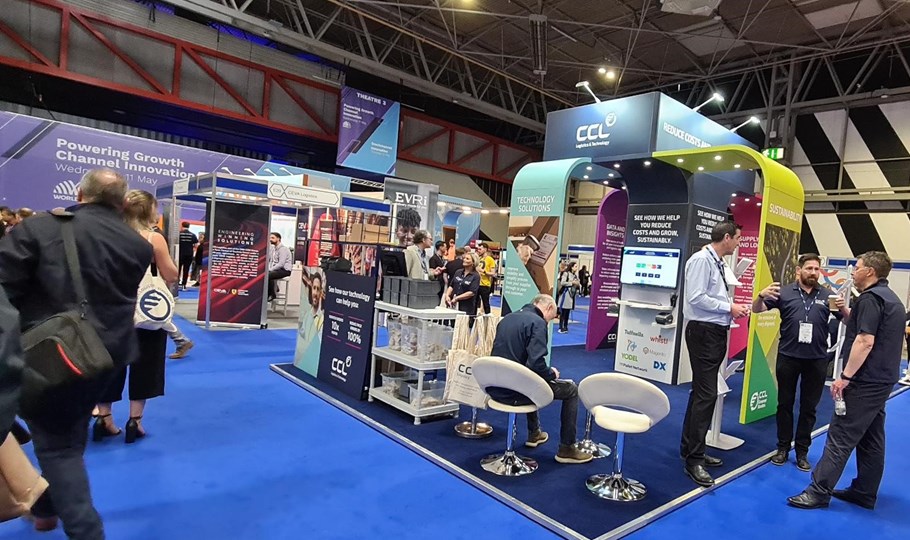 Kicking off exhibition season, the CCL Logistics & Technology team returned to Birmingham NEC to sponsor and exhibit at IRX (Internet Retailing Expo) from 11-12 May. Here Julie Shennan, CCL's Content Marketing Manager, recounts key themes of the show, including post-purchase experience, delivery choice, sustainable shipping, staffing shortages, and digitalisation.
Improving the post-purchase experience was a hot topic on the IRX conference floor, as visitors discussed the pressure to maintain great customer service, amidst supply chain and final mile challenges.
Neil Bayton, Trustpilot's UK Head Of Partnerships said: "A retailer might offer a great service, right up until the point of delivery, and fail there."
However, Neil explained that sellers could still proactively improve post-purchase experience, by taking his advice.
He said: "Just amplify what you are doing well and change those areas that you aren't. So, if it is delivery that needs improving, you can work with someone like CCL, or change your carrier, or change the expectations of delivery outlined on your website."
Increased Delivery Choice and Sustainability
Managing delivery expectations was also recommended by IRX speaker Alex Shepherd, Adobe's UK & Ireland Director of Commerce.
Citing Adobe's Getting eCommerce right in the 2020s Report, he said: "Our research clearly shows that 70% of people wanted delivery options, with that in mind, if you are not offering them options, then you are not really delivering what they want!"
He explained that this applied not just to B2C businesses, but also those selling to trade customers, saying: "B2B businesses might have to focus on set delivery addresses or multiple delivery times; so, it's all about understanding the job and offering the right solution."
This sentiment was echoed by IRX speaker Richard Lim, Retail Economics CEO, who said that as well as speed and price, customers were now seeking environmental information when making their delivery service choices.
He said: "If people have carbon emissions data at the point of checkout, then that gives them the information they need to make a decision about choosing a more carbon efficient delivery."
With an increasing focus on carbon reduction in the supply chain, IRX exhibitors were keen to discuss the sustainability changes their businesses had made.
The Expo team explained CCL's Greener Routes solution, which calculates CO2 for every shipment, allowing businesses to analyse data by carrier, country, customer or mode of transport; to identify ways to reduce carbon emissions.
Carriers exhibiting at IRX also discussed their green initiatives.
Tim Williams, Evri's Head of Corporate Sales said: "At Evri we are continuing our sustainability push, using more electric vehicles, more trials with HVO (Hydrotreated Vegetable Oil) fuel, and more CNG (Compressed Natural Gas)."
Reflecting on sustainability in logistics, Clare Bottle, UKWA (UK Warehousing Association) CEO, listed rail freight, solar-powered refrigerated units, and electric vehicles as some of the solutions being used to reduce carbon.
As well as the challenge of decarbonising logistics, the UKWA team explained supply chain professionals faced the obstacle of growing their businesses in the face of worker shortages.
Joanne Gumery, UKWA Management Board Member, said: "The competition is just fierce at the moment, and it is a candidate market, so it's hard trying to get people in for interviews!"
Reinforcing this was Richard Lim, who said acquisitions, partnerships and the digitalisation of operations were all methods being used to scale businesses in the face of worker shortages.
He said: "Introducing technology can save businesses money on headcounts, and it is key in backing up information; in times when there is a much higher churn of employees this is a really key point."
Increasing productivity through digitalisation was also the focus on CCL's stand, where the team showed visitors how they could reduce costs and grow, sustainably, with CCL's Supply Chain services, Logistics, and Technology Solutions.
The team also demonstrated how businesses could process orders up to x10 faster, with CCL's pack and dispatch demo, using data integration, containerisation, business rules and automated label generation.
After a busy couple of days, the CCL Expo Team wrapped things up, ready to return to the NEC Birmingham for more dynamic demos and discussions at Multimodal, from 14-16 June 2022.