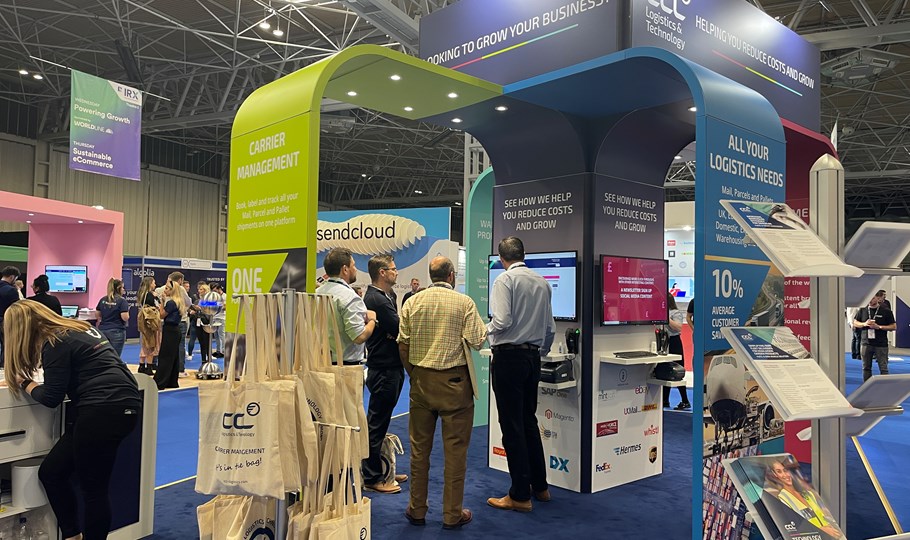 Meeting new faces and old friends, CCL Logistics & Technology was delighted to both sponsor and exhibit at IRX (Internet Retailing Expo) from 13-14 October 2021.
With 100+ exhibitors, 90+ speakers and a record number of visitors, IRX provided the perfect spot for CCL to showcase its suite of technology and logistics solutions that help businesses reduce their costs and grow.
The theme of growth was also prevalent during IRX seminars, where key speakers shared best practice tips on how businesses could scale, while facing supply chain challenges, such as driver shortages, Brexit, COVID lockdown and the ecommerce boom. Here Julie Shennan, CCL Content Marketing Manager, recalled the highlights from the show.
PLANNING AHEAD
Speaker Darren Hatton, Royal Mail Head of Shipping Solutions & Payment Channels, said: "Last year was outstanding in terms of people moving from shops to online purchases. We are advising our customers to plan as much as they can, to forecast what they will be shipping out, so that we can deliver parcels for them as efficiently as possible."
He added: "With the fuel crisis and Brexit problems we are starting to see people try to post earlier... At Royal Mail, we are in the process of recruiting 20,000 extra people, to work on the streets and in our sorting offices, helping at our busiest time of the year."
NEXT GENERATION DRIVERS
Also planning ahead to tackle supply chain problems is Whistl, as its team explained its approach to mitigating driver shortages.
James Gritty, Whistl Business Development Manager, said: "The government announced that there are around 100,000 driver shortages, but there are only 50,000 HGV tests allocated for the next 12 months."
So, James explained, Whistl continues to retain and recruit seasoned HGV drivers, while also starting its apprentices on smaller vehicles.
He said: "Trainees begin with vans for collection and delivery, then work their way up through the vehicle classes and have a guaranteed job in the end."
WAREHOUSES OF THE FUTURE
As well as securing new recruits, Whistl is finding opportunity in the challenge of Brexit, by expanding its UK warehousing offering to 1.5 million square feet. The investment comes at a time when UK warehousing is in high demand, as Peter Ward, ex UK Warehouse Association CEO, explained. 
"Brexit and COVID are driving supply chain disruption. People are having more stock in earlier, to mitigate the risk of any interruption. This is putting a huge amount of call on warehousing. Warehouse vacancy rates are at an all- time low, the vacancy rate across the UK at the moment is around 3%."
However, he stated that as well as new facilities, redesign of existing warehouses could offer a green solution to increase capacity.
He said: "It's about better optimisation of the space available, narrower aisles, better racking, and better pick faces."
INVESTING IN TECHNOLOGY
Likewise, investing in a warehouse technology was suggested as a necessity for businesses to enhance use of their storage space, reduce waste and grow.
During a panel discussion, Josephine Coombe, Nulogy Managing Director for Europe, said: "What happens when a brand doesn't know what's in its external supply chain? It creates safety stock and buffers, to ensure it won't run out of something critical. But when it visualises its supply chain, it is better able to execute orders and it reduces the need for this safety stock."
MULTI-CARRIER MANAGEMENT
Reinforcing this message was Klaas Schippers, Linnworks Senior Customer Success Manager, who explained that maintaining visibility of shipments, and having multiple carrier options, was crucial to business growth.
He said: "Everyone is trying to be as agile as possible. At Linnworks you can integrate with a lot of different shipping carriers. I would encourage everyone to have a Plan B and Plan C, so that if something happens you can quickly change and switch carriers."
CCL AT IRX
Echoing this sentiment was CCL, whose team was busy at IRX demonstrating its multi-carrier management platform, myCCL, which increases efficiency by allowing businesses to book, label and track parcel and pallet shipments, using CCL's consolidated rates, or their own carrier accounts.
Not to mention CCL's technology solutions for increasing warehouse productivity and improving the customer's delivery experience, as well as their full range of logistics services.
Having talked to over 300 people at IRX 2021, the CCL team were excited to see what next year's show has in store, so CCL has already signed up to IRX 2022, from 11- 12 May at NEC, Birmingham.
Get more information on CCL's activity