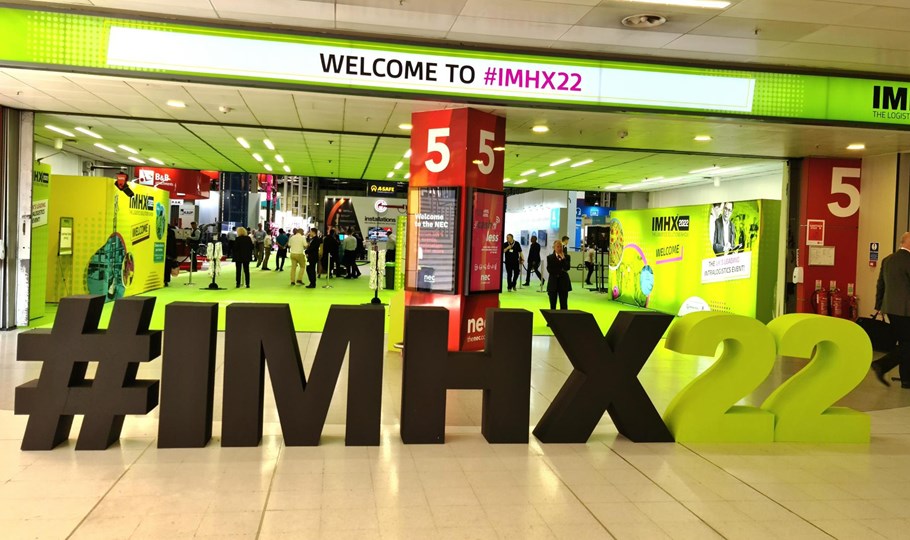 Making its triennial return, IMHX 2022 brought logistics thought leaders, trade bodies and industry partners to The NEC in Birmingham, from 6-8 September.
Here Julie Shennan, CCL Logistics & Technology's Content Marketing Manager, recaps key themes from the show, including automation, sustainability and Generation Logistics.
Automation
Basking in the bright lights of the IMHX stands, robots, warehouse technology and software solutions vied for attention, demonstrating how automation could best improve business processes.
Using tech to do more with less was a theme that continued in the IMHX keynote talks and networking sessions, as delegates discussed the best way to update operations.
Sharon Kindleysides, CILT Chief Executive Officer, explained that she felt choosing the right solution to harness the power of automation was made harder by the sheer volume of information in today's supply chains.
She said: "There is so much data out there that now people are really concentrating on analysing it and focusing on what it is telling them. Even people who haven't fully optimised their operations are looking at using their data to work better."
She added: "Today a lot of logistics systems are using data better, either for routing vehicles or for routing people around warehouses to collect goods."
This sentiment rings true in CCL's solutions, such as myCCL, a TMS (Transport Management System) which not only lets customers book and track multimodal shipments, but also uses data insights to show delivery performance, cost analysis and CO₂ emission reports. These reports show data by customer, carrier and mode of transport. Having all the data in one place allows myCCL users to quickly see carrier and spend analysis, so better plan their future logistics.
Sustainability
Looking to the future, IMHX keynote speakers discussed sustainability and the ways in which businesses were starting their journey to Net Zero.
Chris Seaton, Public Affairs Adviser for UKWA said: "Businesses are including sustainability more in their business plans. 2030 and 2050 are not far away, so the road to Net Zero is becoming more talked about among businesses."
He added: "I think that the current energy crisis is also making people think more about how they can move from traditional ways of fuelling their vehicles or their warehouses to save money, and inadvertently these solutions tend to also be the ones that are benefitting the environment."
David Goss, Technical Director of the UKMHA (UK Material Handling Association) agreed, citing opportunity charging, solar and hydrogen as some of the logistics fuelling strategies of the future. However, he said industry needed steer from government on which green strategies would see investment, so they could plan for the future.
He explained: "Government has been quite careful not to pick technology wins and, in some cases, this has been quite helpful, because it lets people invest. But it does mean that the take up of some technologies, such as hydrogen fuel cells, is slower."
Helping businesses reduce their carbon footprint is the latest challenge tackled by CCL, as it introduces its Greener Routes, a carbon tracker solution that shows users the CO2e for all their shipments by carrier, country, customer or mode of transport.
Greener Routes allows myCCL users to make Greener Choices when booking shipments, by selecting carriers and services with the lowest emissions. This helps customers measure, manage and minimise their carbon footprint, to work toward their Net Zero targets.
Generation Logistics
Talking targets, David Goss explained IMHX was the perfect place to show how UKMHA was working to support Generation Logistics' goals, by attracting new talent to the industry.
He said: "Enticing people to come into a [logistics] engineering career is a challenge, and it is one that we have set ourselves as an association. We want to reach out to all sorts of people, not just young people, but also people that are thinking of having a career change."
David added that Generation Logistics wanted to highlight the diverse range of supply chain jobs available, in fields such as IT, electronics and automation.
This was echoed by Sharon Kindleysides, who said: "Looking around IMHX there is so much robotics and AI; these are fields that people are interested in, but don't realise that logistics careers offer jobs within them."
Like the IMHX exhibitors, CCL is working to raise awareness of the varied careers available in logistics, by attending university job fairs and sharing updates on the ongoing work in its Bellshill Innovation Centre and logistics branches.