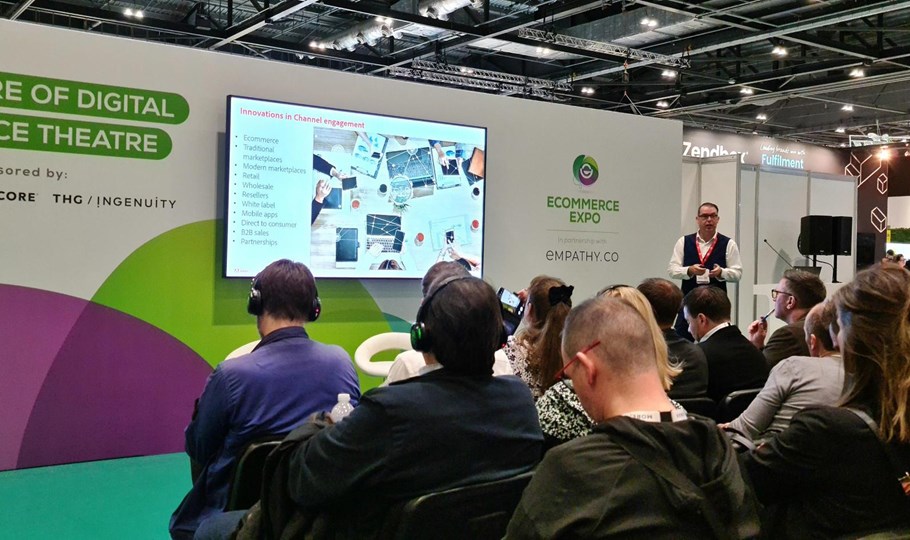 Firing up the autumn conference season was the eCommerce Expo 2022, which brought the bright sparks of supply chain solutions to the London Excel, from 28-29 September.
Here Julie Shennan, CCL Logistics & Technology's Content Marketing Manager, recounts the key themes from the show, including cost-of-living, sustainability and customer experience.
Cost-of- Living
On many minds at the Expo was the cost of living crisis, as speakers, exhibitors and visitors discussed how it would affect business processes and consumer buying.
Retail Economics CEO Richard Lim said: "Costs of goods are up 20%, and operating costs are going through the roof, because of the rise in price of utilities and transport. So, a lot of retailers are looking at charging more for delivery and returns, but consumers want fast and cheap delivery, and easy, free returns."
To solve this dilemma, Richard explained that some businesses were expanding their PUDO (Pick-Up and Drop-Off) services.
He said: "The final mile part of delivery is costly for retailers, so if they can encourage more customers to use PUDO services that makes sense. The capacity of the market has expanded quite aggressively, for instance, InPost has worked a lot on PUDO recently."
Also expanding its out-of-home delivery services is Evri, which now has 3000 lockers and 7000 parcel shops in the UK. Talking at the Expo, Evri Area Sales Manager Andy Thomas explained that building PUDO infrastructure was the first step in changing customers' habits.
He said: "The UK still needs a lot of education around out-of-home delivery. When you look at European customers, they are more inclined to get parcels delivered to a shop to pick up, but in the UK, customers are not so inclined. Yet when you think about the push to Net Zero it makes sense for both the carrier and the customer."
Sustainability
Another carbon-cutting delivery method discussed at the Expo was electric vehicles. Whistl Fulfilment Director of Business Development James Hayes explained it had joined the growing list of carriers now using electric vans.
He said: "Using more electric vehicles is a win for sustainability and it has great tax benefits too. We are potentially seeing that the vans could be cheaper to run, so we could be helping our shippers reduce costs."
Helping customers reduce costs and grow, sustainably, is also central to CCL's latest solution, Greener Routes, a carbon tracker that shows users the CO2e for shipments by carrier, country, customer or mode of transport.
Visiting the Expo, CCL explained how Greener Routes allows its users to make Greener Choices when booking shipments, by selecting carriers and services with the lowest emissions. This helps customers measure, manage and minimise their carbon footprint, to work toward Net Zero targets.
Also talking sustainability at the Expo was UKWA (UK Warehouse Association) CEO Clare Bottle, who explained the opportunity presented by solar-powered warehouses.
She said: "UKWA has just launched its survey results on solar power on warehouse roofs. It showed [that in the UK] about 5% of warehouses have some solar panels on the roof and generally the space that is covered will vary from 10-25% of the roof space. This is just unforgivable! That is prime real estate where solar panels ought to be in use."
Clare explained that UKWA was lobbying the government to regulate the fees and bureaucracy associated with selling power back to the grid, which acts as a barrier to Solar PV Installation. As well as this, she explained that the UKWA had created a 'toolkit' with handy tips on installation, to win the hearts and minds of industry leaders.
Customer Experience
While the eCommerce Expo educated industry leaders on the practicality of implementing greener work processes, it also highlighted the strength of consumer sentiment on sustainability.
In The Digital Customer Theatre, sustainable values, quality products, convenient delivery and cost were named as factors that influenced consumer buying behaviour.
VMLY&R Global Chief Digital Officer Debbie Ellison said: "If you can't close that gap in providing products and services that align with customer values, but also fulfil on cost, efficiency and convenience, then you are going to be a brand that won't be here in the future."
Providing further insight on consumer buying behaviour was Adobe Head of Product, Shaun McCran. Citing Adobe's 2022 Digital Trends report, he explained that 64% of customers said they would like to see retailers personalising in-store and online experiences. Sean added that personalisation could involve complex retargeting or be as simple as bespoke email campaigns.
Personalising post-purchase communications is now made easier with CCL's  Customer Experience Solution. At the Expo, CCL explained how its Customer Experience Solution allows businesses to send milestone delivery messages via SMS or email, with bespoke tracking pages that reflect the business' branding, including space for re-targeting ads and customer feedback components.
After some great conversations at the eCommerce Expo 2022, CCL has confirmed that it will be exhibiting at the eCommerce Expo 2023, on 27-28 September at the London Excel.
For more information contact us